So, you've got a seersucker suit and you don't know how to wear it. Or — you WANT a seersucker suit, but aren't sure you can pull it off, or don't know where to start. Don't worry... by the end of this blog, you'll be ready to rock summer's most-loved fabric.
First things first: what exactly is seersucker? Seersucker refers to a printed cotton or other fabric with a surface of alternating puckered and flat stripes. The word itself actually comes from the Persian phrase "shir o shakar", meaning "milk and sugar" referring to the combination of smooth and textured stripes. Seersucker has been a summer staple for over a century, with history dating back to the British colonial era in India. The hot, humid climate created demand for a lightweight, breathable fabric.
While the fabric is said to have originated in India, the story goes that seersucker suits in particular were first created in New Orleans, Louisiana in 1909. Seersucker suits gained popularity in the United States in the 20th century... particularly in the South's hot summers. They quickly became a go-to look for businessmen and politicians, and still remain the most comfortable option for a dressier look in the summer months.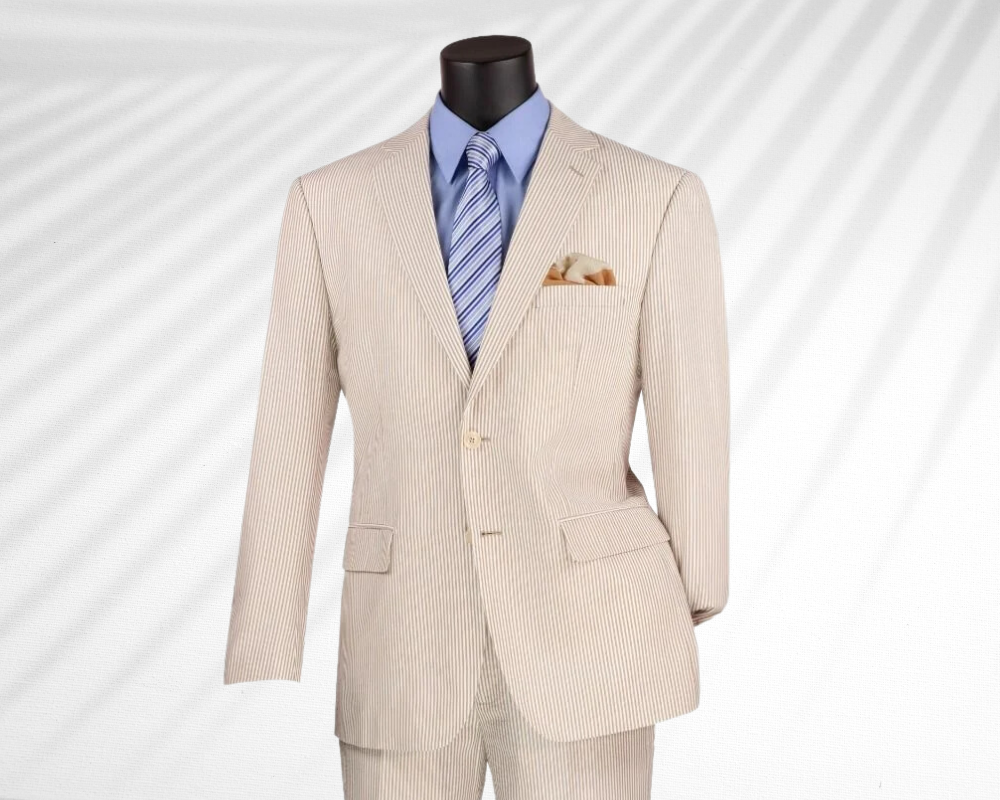 How to Wear a Seersucker Suit
Now that we've covered the history, let's talk fashion. How do you wear a seersucker suit? Beyond being built for the heat, the beauty of a seersucker suit is that it has much of the fashion built in. Thanks to the contrasting colors, elongating stripes, and dimensional texture, you don't need to add much flair to make it fashionable. Here are our top tips for wearing a seersucker suit with swagger:
Make sure your seersucker suit fits well.
As with any suit, making sure your seersucker suit fits right is the difference between looking sloppy and looking polished. A well-fitted seersucker suit is snug in the shoulders and chest, but not too tight in the legs or waist. You can start by checking out our suit size estimator to figure out what size you should order.
Most importantly, you want to be comfortable. Don't hesitate to let your tailor know what feels right and what doesn't when preparing for alterations. After all, feeling relaxed leads to feeling confident in your suit!
Consider the occasion.
Seersucker suits have a versatility that lend themselves to being wearable for many occasions. However, the style typically only works in the spring or summer months, and can appear a bit too off-season otherwise.
Semi-formal outdoor affairs are the perfect place for seersucker suits. Think weddings, fundraisers, a nice brunch, or a boat party. The Kentucky Derby is a great example of where you'd fit right in wearing a seersucker suit. Because it has a bit of a nautical vibe, seersucker is also a fitting choice for events on the beach or coast. In the right environment (and as long as the weather is warm) you might be able to swing an off-season wear in the fall. Just be conscious of the dress code, and don't show up to a black-tie affair in your seersucker suit.
Pair your seersucker with the right shirt.
First... fabric. Be sure to select a shirt that matches the weight of the suit itself. Since seersucker is so lightweight, you'll want a shirt with a similarly breathable fabric like cotton. Steer clear of heavier fabrics like flannel. Of course, given that the point of seersucker is to stay cool, it would be counterproductive to do otherwise.
As for color, there's no need to go for anything too bold or patterned. A crisp white shirt is always a great option. Otherwise, your best bet is a solid, light color. Pastels and a seersucker suit go hand in hand. Bright colors or extreme patterns will clash with the subtle stripes of the suit.
Accessorize accordingly.
Just like with the shirt, you don't want to go for accessories that are too bold or flashy. Let the suit do the talking! Complement your look with a simple tie in a solid color. If you go for a pattern, make sure it's subtle and doesn't clash with the suit stripes. Since the stripes on the suit are thin, it's good to stay with smaller, simpler patterns like diagonal stripes or micro polka dots.
If you're the type of guy always looking for a reason to wear a bow tie, seersucker suits give you the perfect opportunity. They go well with the breezy, summer look and add a pop of personality. It also goes with the preppy vibe of seersucker.
Pick the right kicks.
Seersucker suits are incredibly versatile, giving your plenty of options in your choice of shoe. Your shoes can be what sets the tone between a casual summer look and a more dapper outfit. However, we don't recommend going too casual... that means no boat shoes!
Traditionally, a rounded toe looks best with seersucker suits. While we're partial to a chestnut brown, most shades of black or brown will work. Style-wise, Oxford shoes are an easy option that will work no matter the occasion.
Care for your seersucker suit properly.
Seersucker suits can be delicate, so it's key to handle and store them properly. Avoid unsightly creases and wrinkles by utilizing a sturdy hanger and avoiding folding. While it's been debated whether or not to iron seersucker suits, we don't recommend it. Ironing puts your seersucker at risk of losing its signature pucker. As long as you hang it immediately after each wear, you shouldn't have any issues. If anything, try a light steam to loosen any major wrinkles. Dry clean only when necessary and — as with any quality clothing — store it in a cool, dry place away from direct sunlight.
---
Are you ready for seersucker season? With the weather heating up, it's the perfect time to invest in your wardrobe to stay cool AND look cool. Lucky for you, CCO Menswear has a selection of seersucker suits starting as low as $139.