If you're a pastor, minister, or any other member of the clergy, you may find it difficult to identify a reliable source for clergy robes and church suits. It's important you look and feel your best when leading your congregation, and you don't want your attire to cause distraction by falling apart due to low quality or growing faded after just a few wears.
With repeated use mass after mass, it's worth it to invest in reliable, quality clothing that can be worn for every religious celebration and sacrament. The good news? With CCO Menswear, investing in quality robes and suits doesn't have to mean spending a fortune.
Whether you prefer clergy robes or Nehru suits for your church wear, we're here with everything you need to know about your favorite styles — and your best options for buying on a budget.
Clergy Robes for Ministers, Pastors, and More
The History of Church Robes
You probably don't remember a time in which the clergy was wearing anything but robes at your church. That's because it's been centuries since the practice started — the wearing of robes can be traced back to the early days of the church. It started with clergy members wearing simple garments made of linen or wool, designed to be practical and comfortable so they could move with ease while performing their duties each mass.
Over time, and particularly in the Middle Ages, these church robes became much more elaborate. As the church grew in influence and size, robes grew to be seen as a status symbol distinguishing different ranks of clergy. Robes enhanced with intricate embroidery, rare fabrics, and precious jewels became a status symbol for bishops and other higher-ranking members of the church.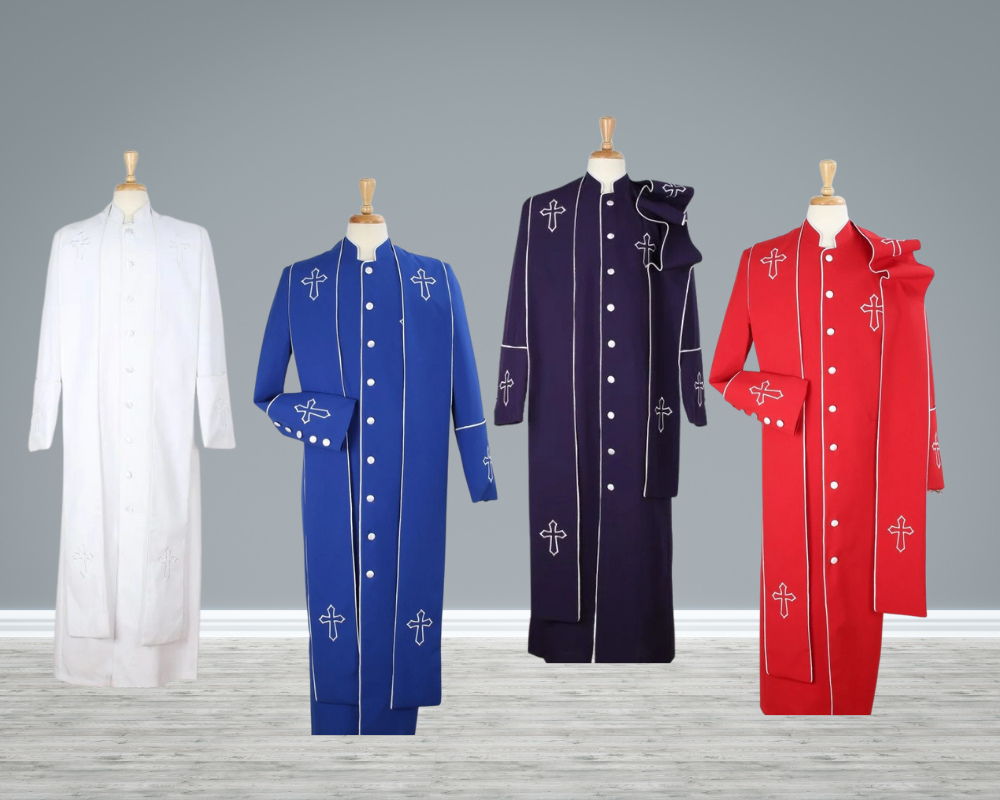 During this time, it also became tradition to wear different robe colors during different biblical seasons. As you might already know, this symbolism still exists in the church today. Red is often worn during Pentecost, while purple is traditionally adorned during Lent. You'll see purple worn during Advent as well.
While they have evolved greatly from the simple wool and linen versions of their past, robes remain a key aspect of religious services. While styles, designs, and colors may vary, church robes are more standardized and depend on the specific guidelines of each congregation.
Where to Buy Quality Church Robes
CCO Menswear offers a great lineup of church robes in a variety of color combinations for every occasion. Our availability of sizes medium through 5XL makes it easy to find an option that fits right and feels comfortable through every mass. Plus, the integrity of our brands and quality of their fabrics means these clergy robes will last you a long time, making them a worthwhile investment.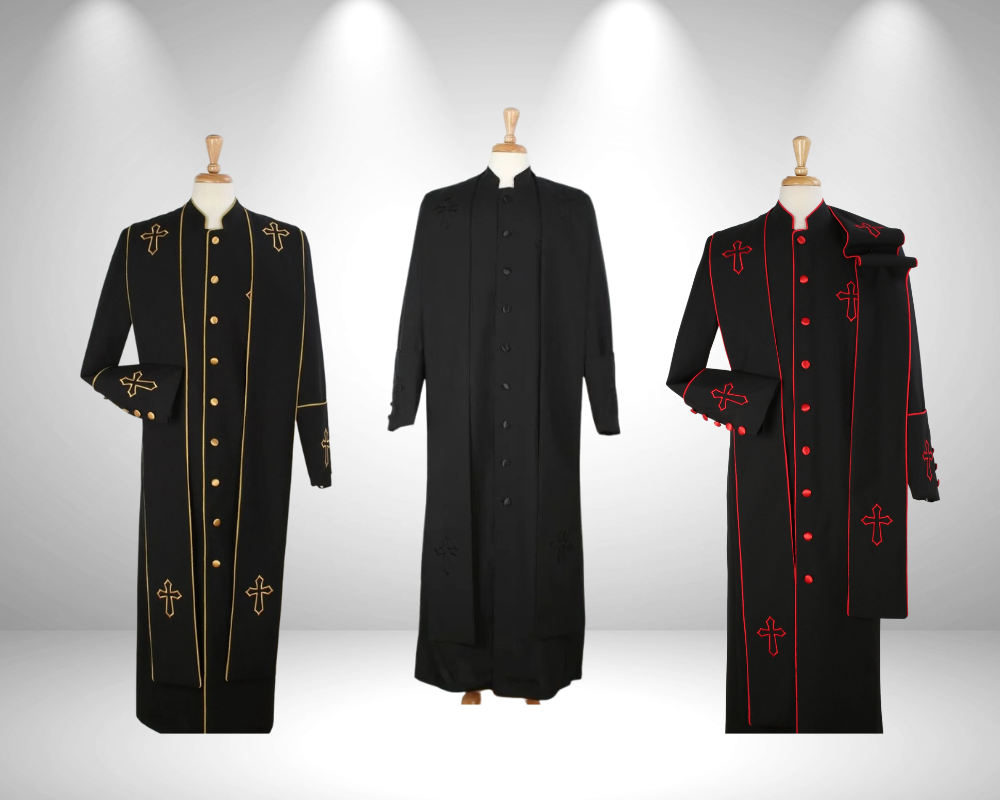 CCO Menswear's greatest color variety for church robes can be found in the this Tony Blake style. You'll find black with different colored accents, cream and white with different colored accents, as well as purple, red, royal blue, and a beautiful tan.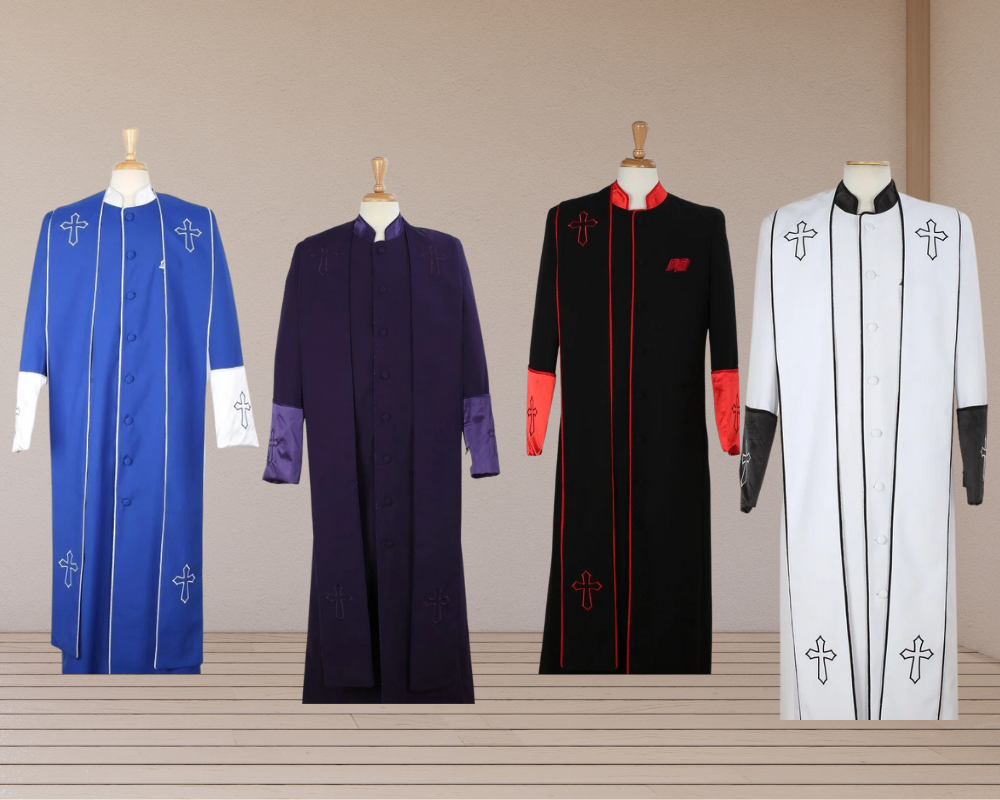 We also offer a slightly different Tony Blake style in a comparable range of colors. While we might be called CCO Menswear, our clergy robes are popular with women as well! Women pastors tend to order a size down and find them to be just as comfortable... and at a much lower price point than specialty online retailers.
Reviews for CCO Menswear Church Robes
We take pride in the quality of all of our products, but have received particularly positive feedback on our clergy robes. Don't just take our word for it! Here's what a couple of CCO Menswear customers had to say about their purchases:
"I'm very satisfied with the white robe. The details are amazing and absolutely breathtaking. The shipping was very fast!"

Review by C.J. 8/31/21
"I received my robe and it was just as I wanted, and the material was awesome. Love ordering from them!"

Review by Jlove 6/17/22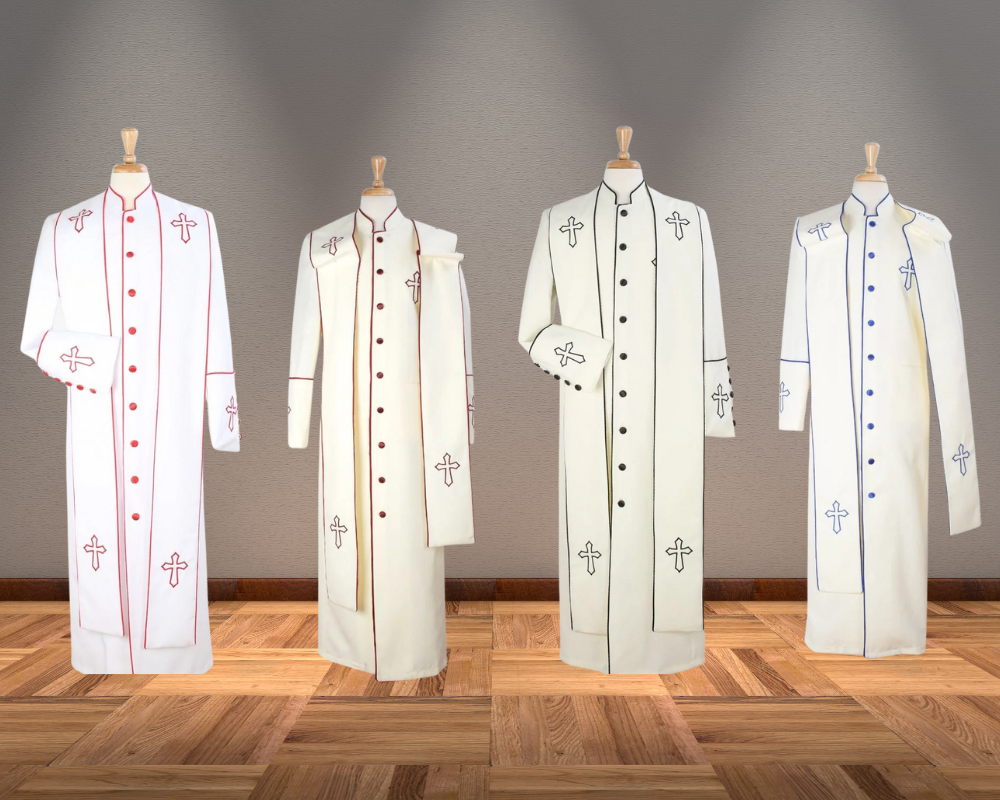 There's a reason why ministers, pastors, and other members of clergy come back to CCO Menswear time and time again for their church wear. We're committed to exclusively selling quality products that we can be proud of. Our goal is to provide clothing pieces that will make you feel comfortable and confident for many occasions to come.
Nehru Suits for Church Leaders
The History of Nehru Suits
Another popular piece of church attire is the Nehru suit, otherwise known as a Mandarin-collar suit. Nehru suits are a variant of the Indian sherwani or achkan, a knee-length, collared coat or jacket with button fastenings. The key differences in a Nehru suit are a slightly shorter length, a Mandarin collar, and lighter fabrics such as cotton, silk, or linen.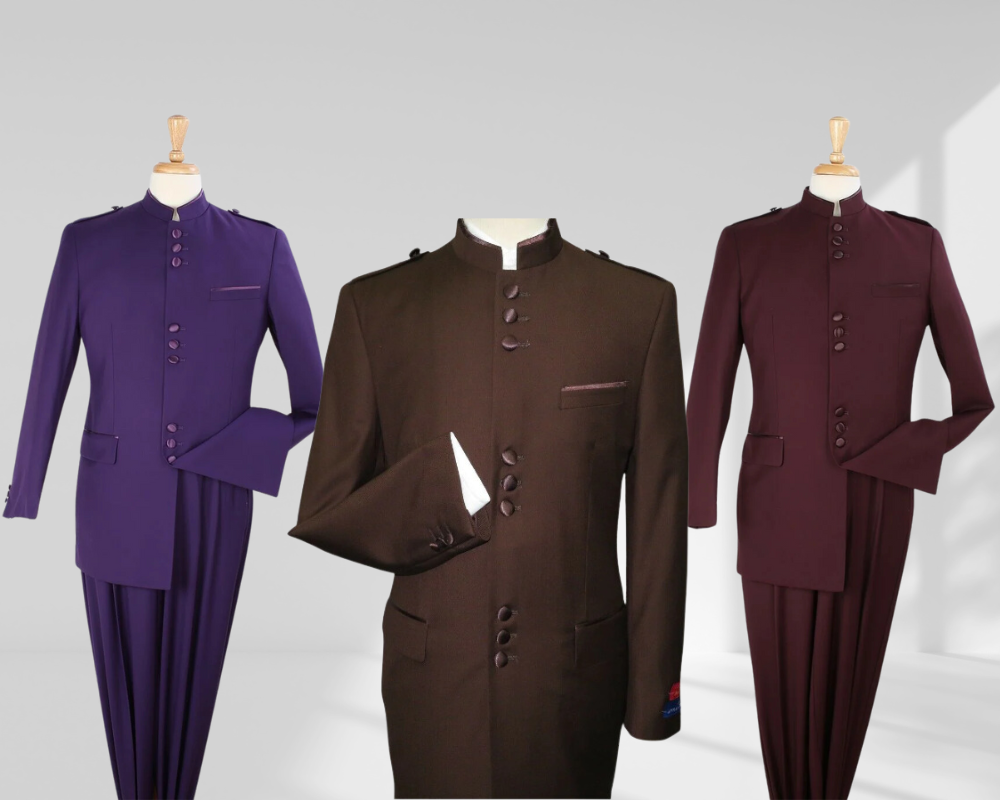 Did you know this fashion piece was named after a historical figure? The particular style of the Nehru suit was popularized by none other than Jawaharlal Nehru, the first Prime Minister of India! Nehru served as Prime Minister between 1947 and 1964, and was known for his preference for simple, unique, functional clothing. That's why the Nehru suit became so closely associated with him and his legacy!
The Nehru suit was quickly adopted by other Indian politicians and public figures, and eventually made its way into Western society. Celebrities the likes of The Beatles and the Rolling Stones made them a major statement in pop culture, and I bet you can picture at least one iconic image of them wearing Nehru suits!
Nowadays, Nehru suits are common attire for pastors, ministers, and other religious leaders. You might also catch celebrities wearing them on the red carpet from time to time to switch things up from the traditional suit jacket. The Nehru suit offers a very sleek, streamlined look.
Where to Buy Nehru Suits
Nehru suits can be found on specialty websites, but are often quite expensive. They're also available from big-box online stores, but fail to have reliable quality that lasts over time. Of course, we recommend purchasing from CCO Menswear! Since Nehru suits are just a part of our wide selection of menswear, we can offer higher quality and trusted brands at a lower price point.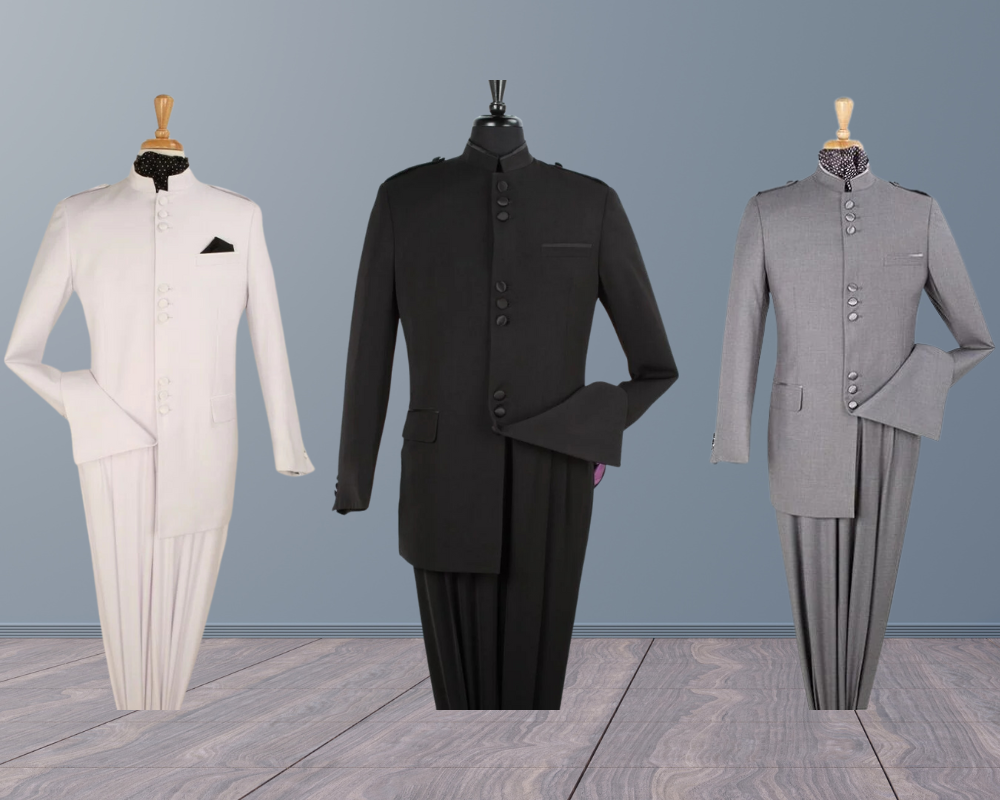 While the Nehru suit doesn't look like a clergy robe or suit, it's actually CCO Menswear's most popular purchase for pastors! A great place to start when purchasing a Nehru suit from CCO Menswear is our Suit Size Estimator. You can utilize our traditional suit size calculator to estimate what size you should order. Please note that our Nehru suits run slightly smaller. You can reach out to our customer service team for additional insights as well.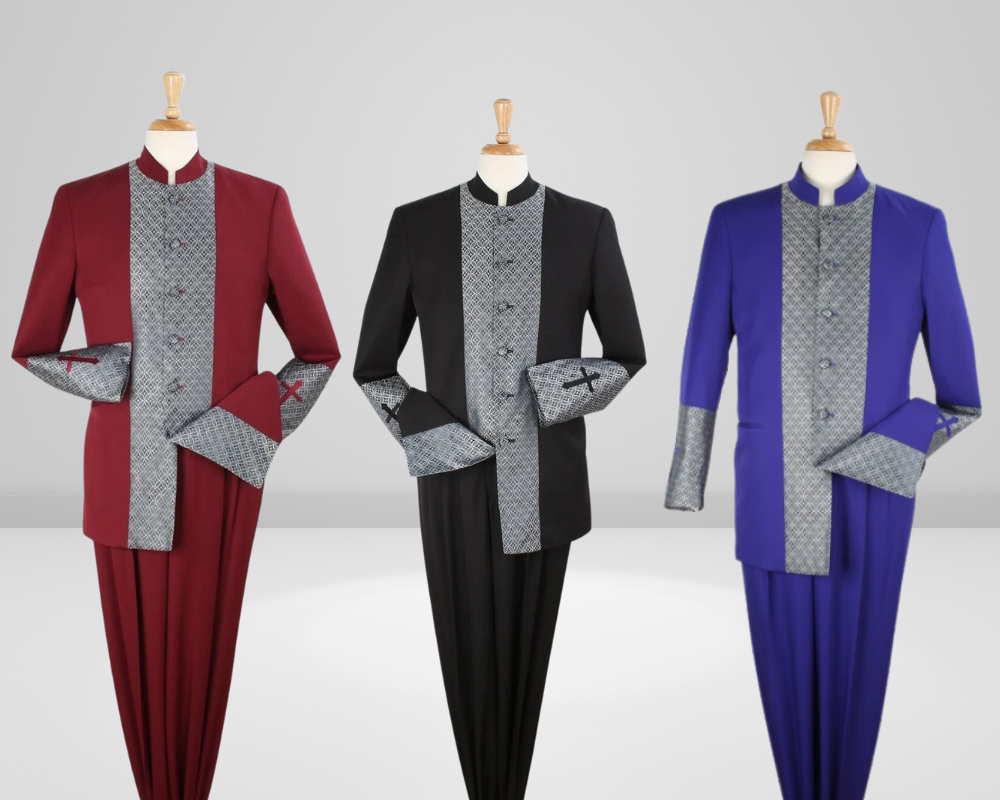 CCO Menswear offers a great selection of Nehru suits, including the accented suit above. Read on to discover the Nehru suit our customers love most...
Reviews for CCO Menswear Nehru Suits
Just like with our church robes, we aim to offer nothing but the highest in quality, fashion, and selection of Nehru suits. We're proud to have almost exclusively five-star reviews on our most popular Nehru suit! Here's what a few real customers said about CCO Menswear's Nehru suits:
"I ordered the black, the gray and the purple. I got so many compliments."

Review by Andy 11/17/22
"I ordered a grey suit and finally wore it. I received nothing but praise for the suit from people I have never met before. It fits GREAT on me! It fit so well that I ordered another one in a different color. Great suit."

Review by GJ 1/1/20
"I ordered the gray for our pastor. And he loves it! I'm now ordering the black at his request. The quality and fit is great — and he's a suit man, so we know when he says he loves the suit , that it's nice."

Review by MsTee 11/10/19
Whether you're ordering for yourself or someone else, you can count on CCO Menswear's Nehru suits to be a hit! Use promo code BLOG to score an extra 20% off your purchase.
---
Ready to add something new to your Sunday's best? Check out our shipping options at checkout and you might be able to get your new attire before next mass! Plus, our free returns make it easy to ensure you find your perfect fit.