How do you match a tie and shirt color? It's a question many men find themselves asking as they get ready for work, church, or any occasion that requires a dress shirt and tie. Even if you feel like you have a good grasp on matching shirts and ties, you still might not be familiar with the foundational rules. With colors, textures, and patterns to consider in your suit, shirt, and tie, there's a fine line between looking adventurously stylish or like a fashion nightmare.
The good news? There are some easy tips for making sure your shirt and tie work together to make you look great. These best practices will quickly become second nature when you're deciding on an outfit for the day. The options for shirt and tie pairings are practically endless, so it's helpful to have some simple rules to narrow your focus a bit.
How to Match a Tie to a Shirt
Ready to become a coordination guru? Once you learn these shirt-and-tie matching tips, you'll feel like you've unlocked a new wardrobe — and feel confident picking out new looks, too. Here are our best tips for how to match a tie to a shirt:
Choose your color scheme wisely.
There are a few different directions you can take when matching a tie to a shirt or suit, color-wise. Luckily, it boils down to just a few tie-matching rules.
Go for complementary colors with your shirt and tie.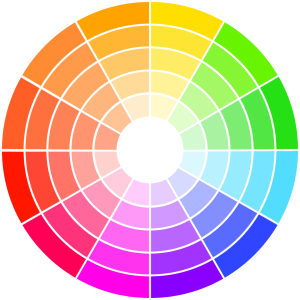 This rule is an easy one. Take a look at a color wheel and check out which colors are opposite each other. Those are complementary colors! That means they tend to pair nicely together in art, outfits, and so on. Some examples of complementary color pairings are blue + orange and purple + yellow. (You can already picture the sports teams that use those color schemes, can't you?) If you aren't able to trust your eye when it comes to combining colors in your outfits, you can always trust the color wheel. While there are more contrasting color combos that work — like a light blue shirt and red tie — complementary colors are a simple place to start.
Match your tie to your suit.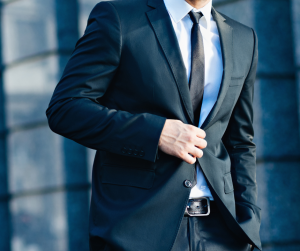 Simple and low-risk, matching your tie to your suit (regardless of shirt color) is usually a safe bet. Black suit and white shirt? Black tie. Blue suit and pink shirt? Blue tie. Black and blue are also incredibly practical and versatile tie colors that can go with a variety of shirts. If you have a base color that matches your suit, it's also fun to add in some patterns and subtle hints of brighter shades with your tie. It is also considered a good general rule to have your tie color be darker than your shirt for a flattering, focused look.
Match your dress shirt and tie for a more monochromatic look.
There's a secret third option for pairing shirt and tie colors... making them the same! There are some instances where making your tie the same color as your shirt can result in a sleek, sophisticated style. For example, a black suit with a black shirt and black tie creates quite the rock star appearance.
On the other hand, you can go for a darker shade of the same color shirt. If you're wearing a lavender shirt, try a purple tie. Staying in the same hue family is a great way to add dimension to your outfit without making any tough decisions in terms of matching your shirt and tie.
Make sure the pattern of your tie complements your shirt.
A great rule for matching a shirt and tie is to only have one of them be patterned. If your shirt features a pattern like stripes or checkers, go for a solid tie. If your shirt is solid, then you can get playful with a patterned tie. This ensures that you're look isn't too busy or distracting, especially for more serious occasions.
The problem with this rule, of course, is that it can be broken. There are some occasions in which you can wear both a patterned shirt and a patterned tie, but we only recommend tackling this challenge once you've grown more confident in your matching abilities. Even then, don't go too crazy — make sure at least one of the patterns involved is something simple like stripes or plaid.
Play with textures when pairing a shirt and tie.
When you think of matching a shirt and tie, you're probably focused mostly on the colors that work together. Another major factor to consider is the texture of the shirt and tie you are pairing. Making good decisions when it comes to texture can add valuable dimension to your outfit. A textured tie can add interest to a plain shirt, while a smooth, silk tie can nicely complement a textured shirt. Texture in your tie can also add personality to your outfit, like a knit tie for a more earthy, casual look.
Consider the occasion for your outfit.
Even when you weigh in all of the above rules and suggestions, the most important thing to consider when matching a shirt and tie is the occasion you're dressing for. Tie-matching rules mean nothing without your best judgment. After all, wearing complementary colors like purple and yellow probably isn't the best idea if you're attending a funeral.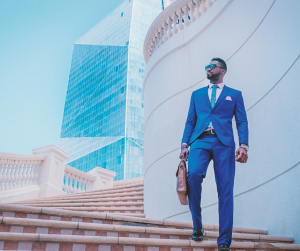 For celebratory occasions like graduations, weddings, prom, family gatherings, and so on, feel free to have fun when you match your shirt and tie. This is your time to show some personality and play with colors and patterns. Even Sunday church service can be a good opportunity to show off your new color-contrasted suit-and-tie combo.
If you're attending a more modest, traditional affair, stick to the classics when you match your shirt and tie. While it's awesome to stand out, you also don't want to be a distraction. Aim for more neutral, matching hues.
Buy dress shirt and tie sets.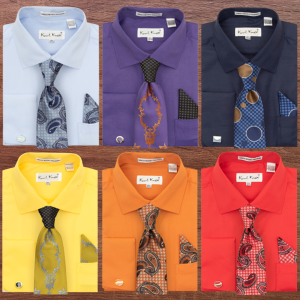 This is basically the cheat code when it comes to matching shirts and ties. Dress shirt and tie sets do all of the work for you, pairing colors and patterns that are guaranteed to go great together. Many of CCO Menswear's dress shirt sets include a shirt, tie, hanky, and cuff links to take the guess work out of matching your outfit.
Even if you don't purchase a prepackaged set, these are some great sources of inspiration when it comes to what works and what doesn't. There are more opportunities to mix and match colors, patterns, and textures than you think!
---
Are you feeling more confident about matching your shirts and ties? Revisit your closet and try some new pairings. You never know what shirt-and-tie combos might make for a fresh, fashionable look. Remember, there are no hard and fast rules for marching a tie and shirt... but you can use these tips as a guide for choosing complementary combinations that make you look like a style expert.