Matching a dress shirt and pants seems simple enough, right? Since most staple slacks are black, gray, khaki, navy, or another neutral color, you usually can't go too wrong with your shirt pairing. It's pretty easy to eyeball what works and what doesn't. However, not many men know that there are ways to enhance your shirt-and-slack pairing for a more flattering, elevated look. You have no idea how much potential lies in your dress pants and shirt combination!
Just like when you're putting together any outfit, there are multiple factors to consider. Fit, color, patterns, and so much more! Here are some best practices for pairing slacks and a dress shirt.
Matching Your Dress Shirt to Your Pants
So... how DO you match pants with shirts? First, you must define your desired look based on the occasion you're dressing for. If it's a formal event, you might want to stray towards more classic, neutral colors. A great example of this would be a black-tie wedding, where you would probably stand out as a distraction if you were to show up in a bright, bold suit. For a more casual affair, you can experiment with brighter colors and patterns.
Make sure your dress shirt and pants match in fit.
Sure, making sure the COLOR matches is important for your dress shirt and pants combo, but the fit is just as key in your pairing. Your dress shirt should fit comfortably without being too tight or too loose. This will offer the most flattering silhouette for your frame, and also prevent you from looking sloppy. There's nothing worse than letting a poor fit ruin an otherwise nice outfit!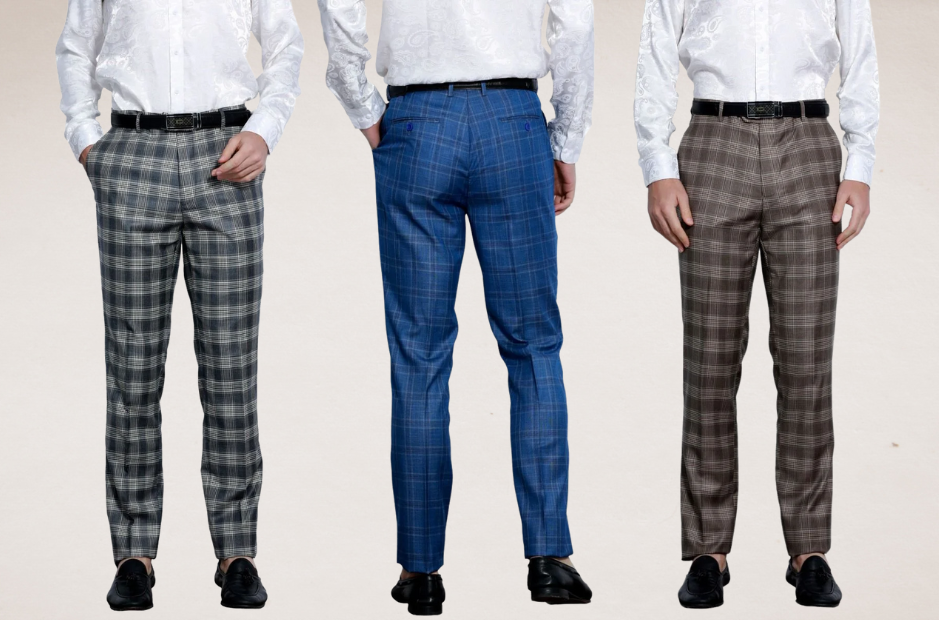 In addition to the dress pants and shirt separately fitting properly, you also want to make sure they match each other in fit. Slim-fit pants work well with slim-fit shirts, while regular-fit pants pair better with classic-fit shirts. Pairing opposing fits together can make you appear disproportionate. Matching fits creates a thoughtful, streamlined look that makes it seem like you put effort into choosing your look.
Choose complementary fabrics.
Similar to the concept of matching your dress shirt and pants in fit, you'll want to make sure the combo aligns in fabric, too. The material you choose for your shirt and slacks depends greatly on the season. Cotton or linen are great for warmer weather, while wool or flannel are better suited for cooler occasions.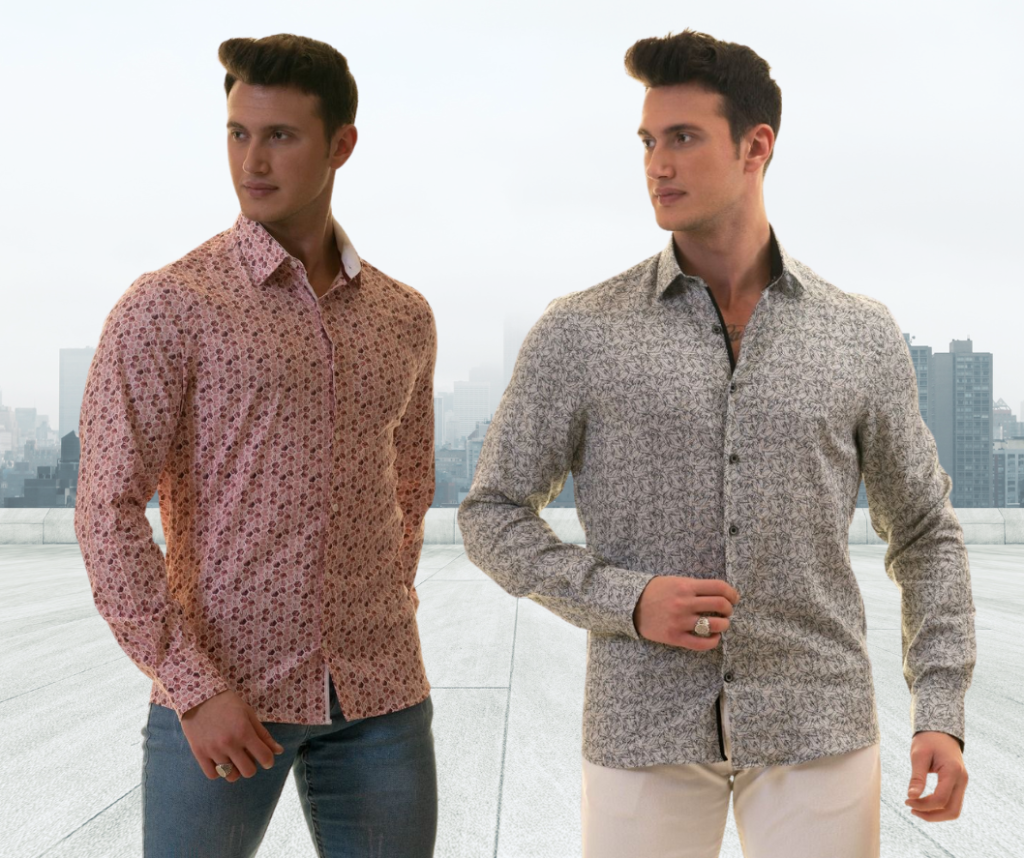 While your dress shirt and pants certainly don't have to be the exact same fabric, it's good to keep the general season of your fabrics in the same family. You don't want your pants to appear way heavier than your shirt, or vice versa. A cotton or linen shirt pairs well with chinos during hot seasons, and a wool dress shirt can go nice with wool pants for winter.
Don't clash patterns.
If your pants have a loud pinstripe pattern, don't pair them with a shirt with a floral print. If your shirt has polka dots, don't put them with plaid pants. You don't want your outfit to appear overwhelming or too over-the-top. While it's great to stand out, you don't want to stick out like a sore thumb in a formal or business setting. Carefully balance patterns together for a cohesive look. If you do go for pairing two patterns, make sure they are subtle and similar in size (avoid tiny polka dots with large gingham, for example.)
Consider how the colors work together.
It's the obvious piece of advice, and probably what you came here wondering. How do you match the colors of your dress shirt and pants? As a general rule, lighter colored shirts pair well with darker colored pants. You can't go wrong with a white shirt and black or navy pants. As for lighter colored pants, like khakis, it's good to have a shirt in the same lightness, but a contrasting color. (Think a light blue shirt with light tan pants.)
If your pants or shirt have a pattern with a contrasting color, that's a fun option to mix in, too. For example, your blush shirt might have a subtle navy pattern, making navy pants the perfect match. There's also the option to go the monochromatic route, wearing the same color shirt and pants. A black shirt and black pants can look pretty slick together if it's fitting for the occasion.
Accessorize properly.
Even if the fit, color, and material of your dress shirt and pants combo match perfectly, the wrong accessories can throw off your whole look. Pairing a brown belt with black shoes will totally kill the vibe of your outfit, and mixing metals in your accessories can result in a disheveled appearance. Decide whether you're going for brown shoes + belt OR black shoes + belt for a classy look. As for your tie, choose something that ties together your shirt and pants without being too loud.
---
No matter what your style, CCO Menswear has the pieces you need to knock every outfit out of the park. With our wide selection of colors, fabrics, fits, items, and accessories (all available at affordable prices!) it's never been easier to stock your wardrobe with winning looks.